Jamyang Buddhist Centre Leeds invites you to a very special opening weekend of its new Centre in Holbeck, South Leeds with His Eminence the 7th Kyabje Yongzin Ling Rinpoche.
This is a rare opportunity to receive teachings and an initiation from one of the most important young Lamas of the Gelugpa tradition of Tibetan Buddhism.
All the events are open to Buddhists and those of other faiths, those seeking inspiration from the Tibetan Buddhist tradition, or those who would just like to find out more about Buddhism and what the new Centre has to offer.
Event Schedule
Saturday 27 April
10:30                   Doors open
12:00-13:00      Opening speeches
13:00-14:00      Buffet lunch 
14:00 – 15:00    Public Talk with H.E Ling Rinpoche: Developing a Peaceful Mind in a Turbulent World 
16:00 – 18:30    Teaching from Shantideva's Guide to the Bodhisattva's Way of Life (Chapter 1 The Awakening Mind) n.b. there will be a break around 5pm.
Sunday 28 April
10:00 – 12:00  Teaching continues from Shantideva's Guide to the Bodhisattva's Way of Life 
14:30 – 16:30   Four-armed Chenrezig (Buddha of Compassion) initiation – Jenang
Suggested donations
£8 for Public Talk with opening speeches and a buffet lunch / £35 for each teaching session /£65 for teachings on both Sat and Sun / £25 for the initiation  / £95 for the whole weekend.
Why donate?
With your donation, you will help Jamyang Buddhist Centre Leeds to sustain to the cost of the event, create the conditions for the teachings to continue, for the doors to be open and the lights to be on.
Booking is essential so we know numbers for catering and can ensure everyone's comfort over the weekend.
To Book on all or part of this weekend event click here.
Seating will be allocated on a first come first served basis. Places will be unnumbered and there will be a mixture of chairs and mats and cushions on the floor, so we may not be able to accommodate everyone's choice of seating. If you require a chair please arrive in plenty of time.
About the Public Talk 
Modern society aims to create the external conditions that will bring us wellbeing and happiness. We have shops full of products, food from every country and hours of entertainment at our fingertips. However, despite all these developments and the variety of pleasures we have access to, the moments of internal peace and true happiness are rare. We often feel tension in almost every aspect of our life and at times, it seems that the outer world also contributes to the internal restlessness that we feel.
Buddhism teaches that internal happiness is not derived from external factors, but rather from positive states of mind, like love, compassion, patience and generosity – and we can develop these qualities to deeper levels throughout our life.
In this Public Talk H.E Ling Rinpoche will discuss these issues, as well as the methods that Buddhism offers to develop states of mind that grant inner peace and well-being. The talk will be translated from Tibetan to English by Geshe Kelsang Wangmo, a Buddhist nun originally from Germany and the first woman in history to complete the traditional Geshe training in the Gelugpa tradition of Tibetan Buddhism.
About the Teaching and Empowerment
The Guide to the Bodhisattva's Way of Life (Bodhicharyavatara) by the eighth-century Indian master Shantideva is one of the greatest works of Buddhist literature. Shantideva's text shows the way to transcend the limitations of a self-centered mind and realise the boundless compassion of the Bodhisattva, the being who strives for the well being of all living beings. One of the greatest exemplars of the Bodhisattva's way is His Holiness the Dalai Lama, who credits Shantideva's Guide as his chief inspiration.
H.E. Ling Rinpoche will teach from Chapter One of this great text called The Awakening Mind.
In this first chapter, Shantideva says all happiness comes from wishing others well, and all suffering from caring only for ourselves. Shantideva proclaims cherishing others is the best medicine for what ails the world and the Bodhisattva (a man or a woman who has developed Bodhichitta) comes into being with the development of this awakening mind. Chitta means "mind" and also "heart" or "attitude." Bodhi means "awake," "enlightened," or "completely open"). The Bodhisattva then proceeds to engage in a way of life that is conducive to the realisation of his or her goal.
H. E. Ling Rinpoche will also give an Avalokiteshvara Six-Syllable Empowerment (jenang). Avalokiteshvara (Chenrezig in Tibetan) is the Buddha of Compassion.
The benefits of the Six-Syllable Mantra.
The six-syllable mantra Om Mani Paadme Hum is the speech manifestation and the wisdom energy of all the Buddhas. It purifies our impure perception of sound. It is also a means to protect our mind from deluded thoughts such as attachment and anger. It cuts off one's ignorance and helps us to develop wisdom in our minds. It brings immeasurable blessings and peace and can save and alleviate beings from immeasurable suffering and difficulties.
About H.E Ling Rinpoche
The 7th Kyabje Yongzin Ling Rinpoche is one of the young Lamas of the Gelugpa tradition of Tibetan Buddhism, very close to His Holiness the Dalai Lama and a key lineage holder of many practices and teaching lineages. After completing his traditional monastic education in the re-founded Drepung Loseling monastery in India, he started travelling outside of Asia to make the teachings of Buddhism available to the wider world. Rinpoche is the reincarnation of the Dalai Lama's senior tutor, His Holiness the 6th Yongzin Ling Rinpoche, one of the most renowned masters of the 20th Century who played a key role as the head of the Gelugpa tradition in the early days of exile from Tibet.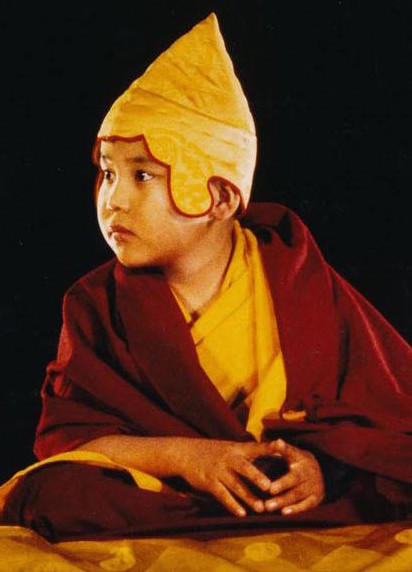 This visit to Leeds is part of the first UK visit by H.E. Ling Rinpoche. We hope that this visit will mark the start of a developing long term relationship between Rinpoche and Dharma practitioners and students in Leeds and across the North. Complimentary places are available to IMI Sangha. Please email smile@jamyangleeds.co.uk to register. (Image: The young Ling Rinpoche).